HURT100 Course Map
Multiple formats are available as discussed below.  However, remember that all these maps are for general reference only. The errors in GPS measurements in the map and from your device in the mountains are often larger than the distance to a cliff edge or other hazard. Thus, while very useful to ensure you still on the race route and going in the right direction, you must constantly look out for trail hazards.
Geo-referenced PDF
Maps from Book of HURT
GPX
KML – Google Earth
Google maps
How to download HURT race maps to your phone (Geo-referenced PDFs)
1. Install the Avenza app to your smartphone.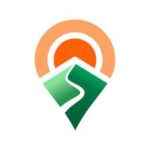 Download the free Avenza Maps app from these app stores
2. Download map into Avenza Maps app.
Open the app and create a free account if required
Tap on the plus [+] icon in the top right side of screen
Select "Import Maps"
Select "From the Web" and then type or copy/paste the website address and tap "go"

https://hurt100.com/HURT100-map.pdf

You will then see it appear in your list of maps
Tap on the map name to ensure it opens
Important notes:
After you have followed these steps and see the map in the Avenza Maps app on your phone, on race day (or anytime you are actually on the map) you will be able to see your real-time location by simply opening the map. The GPS location arrow in the bottom left will center the map on your current location.
It only requires GPS (not cell coverage) and will work in airplane mode if you are trying to save battery.
For those that want to see it working prior to race day:

If you are not on the course, you will not see your location. If you want to have a map where you will see your real-time location (i.e. the blue dot) to get a feel for the app, you can use this map of all of Oahu: https://caltopo.com/p/F08HC Download this map using the same instructions above and as long as you are on Oahu, you will see where you are.