Aloha athletes,
UPDATE: This activity will NOT involve creating new trail, but only to clean up and clear vegetation.
Please join us on Saturday, April 20, 2019 as we celebrate Earth Day with the current and next generation of stewards of the 'aina! We will be joining Na Ala Hele and Halau Ku Mana (the Hawaiian immersion school located at the front driveway to Hawaii Nature Center) in cleaning up Makiki Stream. This will be a great opportunity to make a difference in the community, learn some Hawaiian culture, and earn a few trail service hours (for those looking to enter the HURT100).
We will be meeting 7AM at the Hawaii Nature Center (2131 Makiki Heights Dr, Honolulu, HI 96822) picnic table. All volunteers should check-in with Freddy, Glen, and Jeff Fong.
Please wear suitable clothing (long sleeve shirts, long pants/jeans are recommended) as we will be doing various tasks that involve us getting "down and dirty" as well as doing a good amount of manual labor. Wearing closed, durable shoes in good condition is required. Tasks include picking up debris and cutting back vegetation. If you have tools which could help us clear vegetation, bring it with you. Please bring adequate water and a snack or two for yourself to keep properly energized during the work. Sunscreen and bug spray are advisable.
Future HURT100 entrants should bring the work form to be filled out by the HURT trail maintenance coordinators after work has been completed for the day.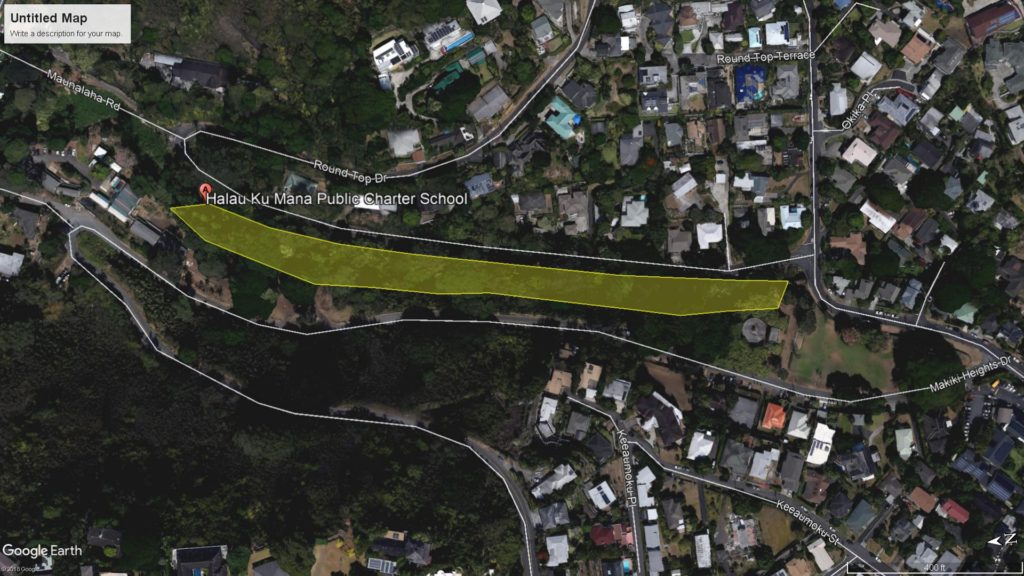 We will start near the school buildings and work our way down stream to the pumping station. The terrain is rugged between the stream and Round Top Drive. They will mark the trees they would like to be removed or trimmed. The more people to volunteer the better!
We will participate at a blessing at 7:30 sharp and start work thereafter, we should meet at 7:00 and get our tools ready. We should participate for a 12:00 lunch break and get back to work after.