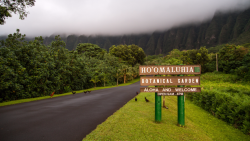 Congrats to all those who came out and toed the line this past weekend at the HURT 100!
This year our annual post-race shuffle and picnic at the Hoomaluhia Botanical Gardens is going to be slightly modified. Unfortunately they are not allowing run groups in to the park without a permit, and those aren't granted till after 4pm. So we're going to continue our tradition of having our annual picnic starting around 10am but do a quick run close by but outside the park.
For the run, let's meet at 7:00am near the Koolau Golf Club / First Presbyterian Church at 45-550 Kionaole Rd. After parking in the lot, run back down the road a little till you get to the last turn where you came in (this is where we'll be meeting). From there we'll turn right and head up the old road all the way up to Pali Highway, where we can cross underneath the highway to meet up another trail which leads to Pali Lookout. I think it's only a few miles but not exactly sure 😉
If just coming to the picnic, after entering the Hoomaluhia Botanical Gardens, drive in through the gate and keep an eye out for the sign that says 'Kahua Kukui' – it is the Polynesian section of the park and the entrance is lined with Kukui trees and this is where we will be meeting. Please bring a dish to share along with your best stories from the weekend! Bonus points for wearing cat pants!
See you Saturday!
Rosie